The ultimate guide to the UK Global Talent Visa

Earlier this year, I was granted a Global Talent Visa in the field "Digital Technology", in the category "Exceptional Talent". Thanks to the UK's Global Talent Visa, I am now settled permanently in the UK, and I'll be able to get a British passport in a couple of months. 🇬🇧
Having lived in the UK through a few different visa categories (Tier 5, Tier 2, Skilled Worker) I wish I would've known earlier about the existence of the Global Talent Visa, as it has made my path to settling permanently in the UK much faster and hassle-free. I decided to write this blog post in the hopes my experience will be useful to anyone considering a similar path.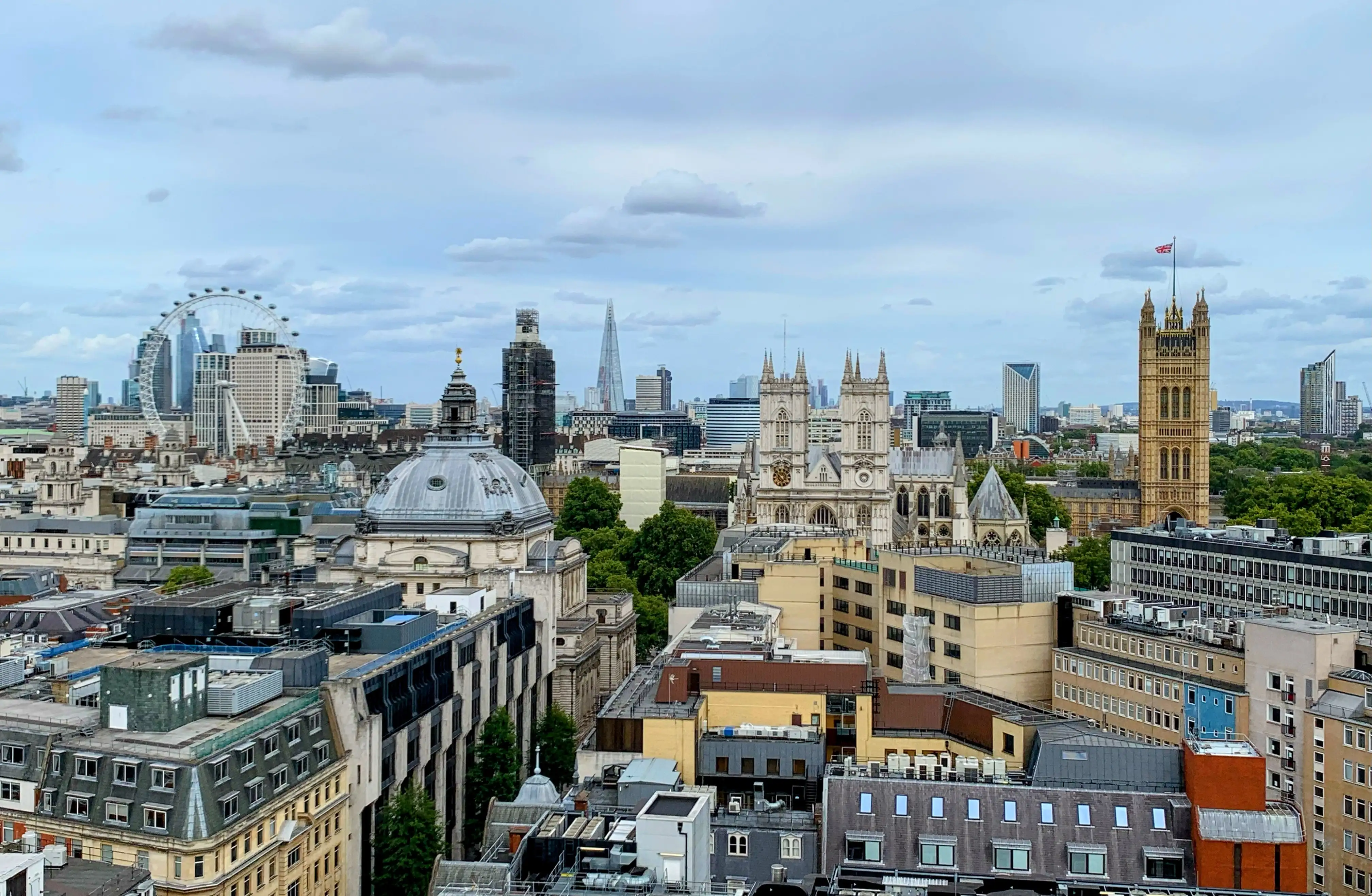 ⚠️
Warning
I am not a lawyer, this is just my personal experience and opinion, not immigration advice or legal advice. Make sure you check the government's official guide for the latest information, as the rules might have changed since I wrote this.
What's the Global Talent Visa?
If you're already familiar with the visa and want to read about my personal experience, you can click here to skip this section.
The UK's Global Talent visa is a fast-track visa route for talented individuals wishing to live, work, or start a business in the UK.
How is the Global Talent Visa different from a work visa?
The UK Global Talent visa and a UK work visa are both designed to allow skilled workers to live, work and settle in the UK, but there are a few differences:
No sponsorship needed: The Global Talent visa does not require sponsorship from a UK company, while a regular work visa does. This means that with a Global Talent visa, you can move to the UK if you do not have a job yet, if you are self-employed, or if you're planning to start a business in the UK.
Not tied to an employer: Since the Global Talent visa is not tied to an employer, someone on the Global Talent Visa can take any employment, change jobs, or even start a business without needing to apply for a new visa.
How long is the Global Talent Visa valid for?
The visa is granted for up to 5 years and can be extended indefinitely. The length of the visa and your time to citizenship or Indefinite Leave to Remain (ILR) will depend on whether you apply and receive the visa in one of two categories: "exceptional talent" or "exceptional promise":
Indefinite Leave to Remain (also known as "ILR" or "Settled Status") is the name for permanent residency in the UK. After holding Indefinite Leave to Remain for a year, you are eligible to become a British Citizen (provided you meet other requirements).
Exceptional promise: individuals who have the potential to become leaders in their field, with a strong track record of achievements. The requirements vary depending on the endorsing body but generally, exceptional promise applicants have LESS THAN five years of experience in their field.
Exceptional talent: individuals who are already established as leaders in their field. They must have a proven track record of success and innovation throughout their career. The requirements vary depending on the endorsing body, but generally exceptional talent applicants have AT LEAST five years of experience in their field.
Applicants for the "Exceptional Talent" category can apply for Indefinite Leave to Remain (ILR) after 3 years, while applicants for the "Exceptional Promise" category can apply for ILR after 5 years.
Who is eligible for the Global Talent Visa?
To be eligible for the Global Talent visa, you must work in one of the following fields: Academia or research, Arts and culture or Digital technology, and prove that you have "exceptional talent" (or"exceptional promise") in your field. You need to prove this in one of two ways:
By winning a prestigious award: You can apply for the visa if you have won an award, such as a Nobel Prize, an Academy Award, a Pulitzer Prize, among others.
By being endorsed by an important organisation in your field: You can apply for an endorsement from one of several bodies, including The British Academy, The Royal Academy of Engineering, The Royal Society, UK Research and Innovation (UKRI), Tech Nation and The Arts Council England. You can find the full list here.
I made an infographic to explain this in more detail: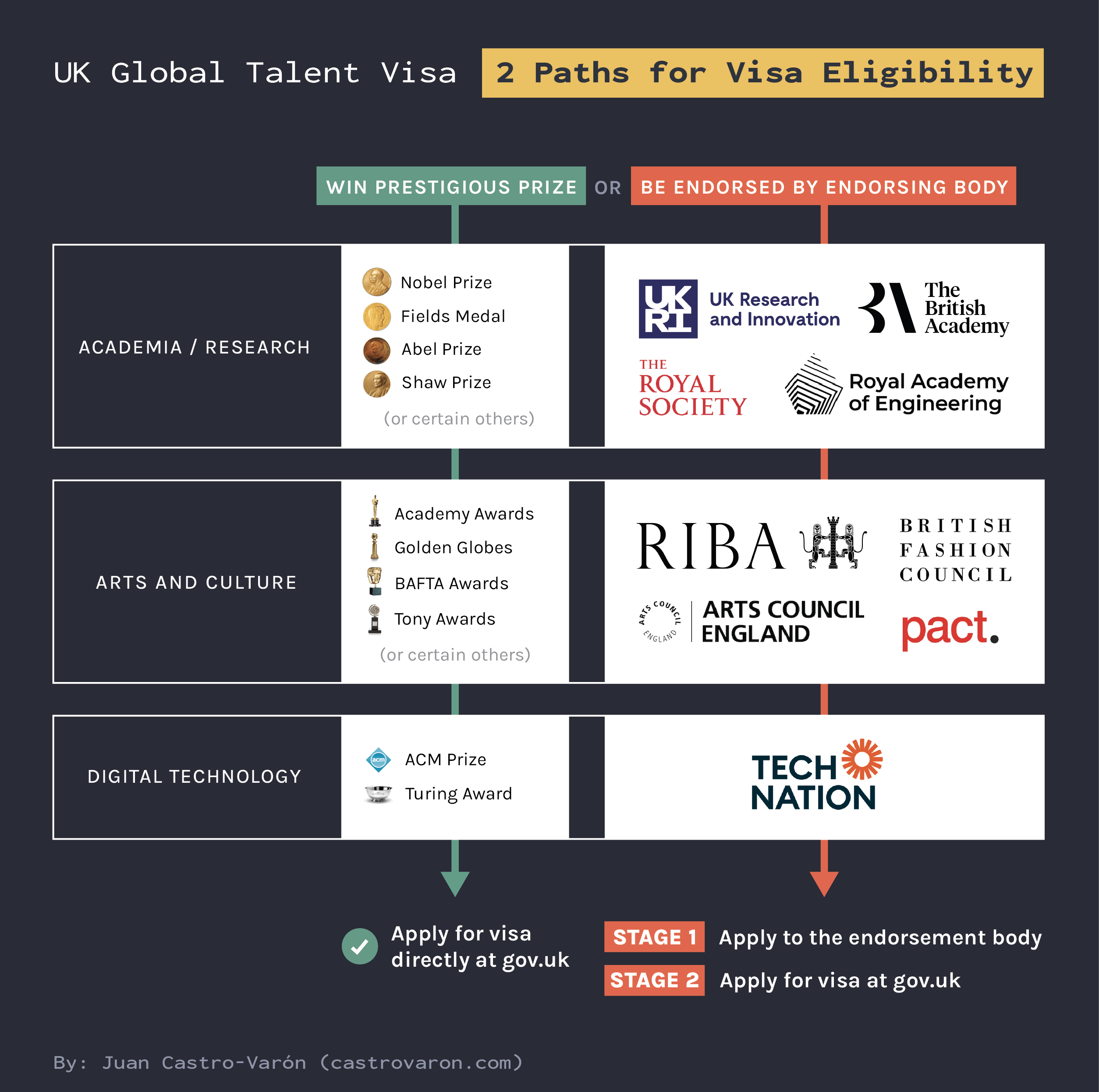 So, if you have won an eligible award, your next step is to apply for the Global Talent visa directly at gov.uk.
However, if like me, you haven't won an Oscar or a Nobel Prize (let's face it, are people with Oscars and Nobel Prizes actually applying for visas to move to the UK?) you will need to be endorsed by one of the endorsing bodies shown above. However, only some types of experience or skillset are eligible for endorsement by the bodies above. So let's extend the infographic with some detail on what kind of jobs are eligible for endorsement: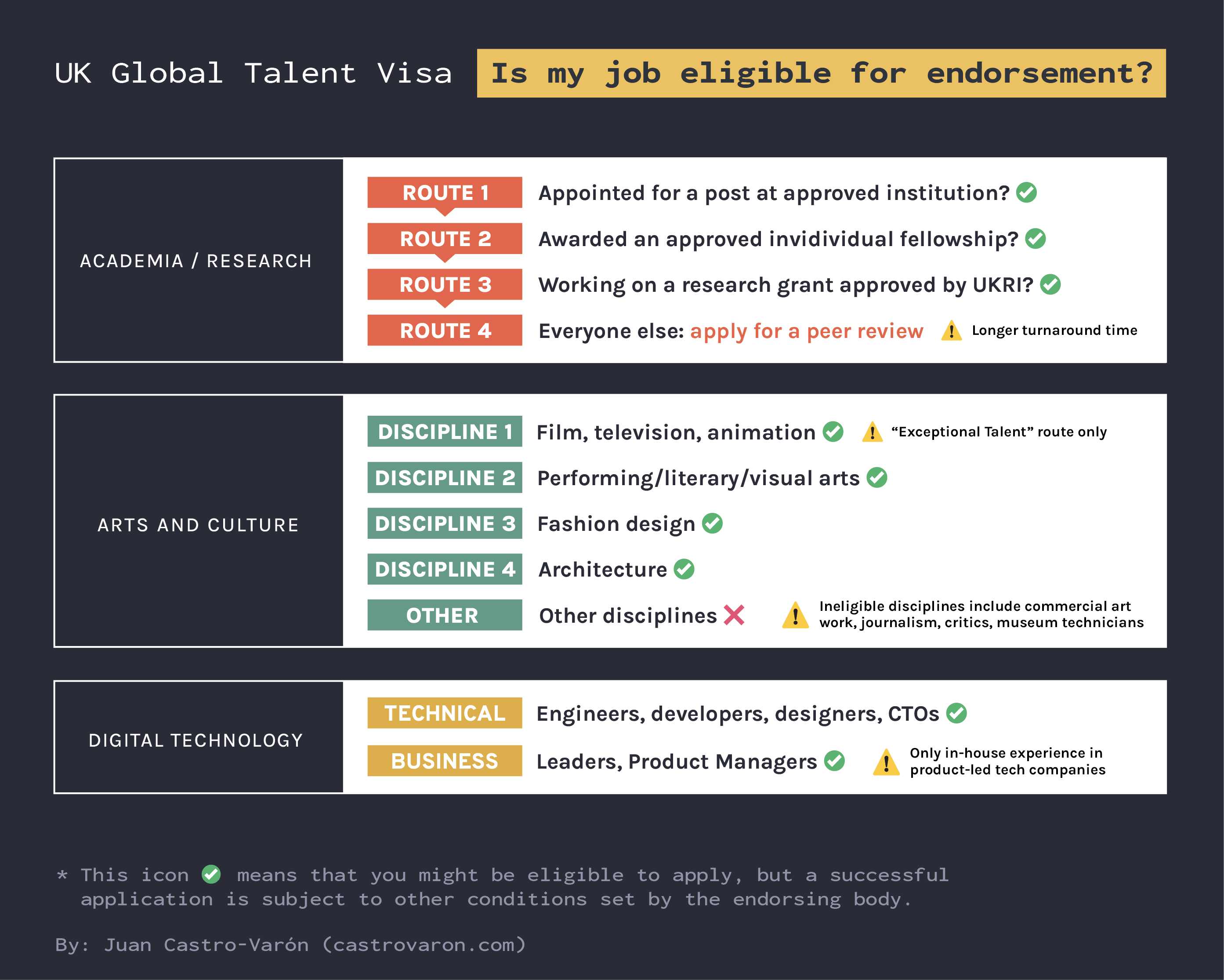 Since my field is Digital Technology, my next step was to apply for an endorsement by Tech Nation as a technical applicant.
The rest of this article will centre around getting Tech Nation's endorsement and my personal experiences and documents. While this might be useful regardless of your application route (most applications for endorsement will involve letters of recommendation and proof of impact, which I discuss below). If you want to read about my experience, you can scroll down or click here.
For those who are not working in digital technology, I encourage you to read this great post by Daniel Sokolovskiy for arts and culture applicants. For academia/research applicants, I couldn't find a similar writeup on someone's personal experience, but I recommend checking out the British Academy's guide on the Global Talent visa. I also encourage you to read through the official guides here (academia/research) and here (arts and culture).
Am I Eligible for Tech Nation's endorsement?
Tech Nation applies only to applicants with experience working in Tech!
As you can see in the infographic above, Tech Nation endorses technical and business applicants working in Tech. This includes (but is not limited to):
Technical jobs
Artificial Intelligence, Natural Language Processing and Machine Learning experts (AI, NLP, ML)
CTO or VP engineering experience managing teams of in-house employees at a growing digital business
Cybersecurity experts
DevOps / SysOps engineers
Experienced back end developers leading development of or contributing heavily to major new technologies or open source projects (for example, blockchain, Scala, Golang, Elasticsearch and so on)
Experienced data scientists/data engineers
Experienced front-end developers
Experienced Mobile App developers
Experienced UX/UI designers
Experienced video game developers
Hardware engineers
Operating systems engineers
Principal software engineers/developers
Virtual and augmented reality developers
Business jobs
Experience as a commercial / business lead (P&L, growth, sales and distribution strategy) in a digital business
Experience as C Suite in a SMEs + (CEO, CMO, CIO) or head of operations for a digital business
Experienced and senior VC or PE analysts with track records of leading investments in digital businesses
Experience of expanding or growing a significant product-led digital technology business
Experience of leading substantial VC investment over £25m GBP
Experienced Product Manager
Performance marketing experts, performed in house for digital businesses
SaaS or enterprise sales leadership for digital services
Sector-specific experience for example, payment infrastructure in FinTech / international expansion in EdTech and so on.
Solution sales experts
Solution sales skills performed for a growing B2B digital business (i.e. not big-company experience)
Additionally, whether your experience counts towards your application will depend on whether you worked as part of a technical or non-technical organisation:
Technical applicants (i.e. programmers) from non-technical organisations are eligible.
Non-technical applicants (i.e. business roles) from technical organisations are eligible.
Non-technical applicants from non-technical organisations are generally not eligible.
⚠️
Warning
Experience in consultancy/agency roles is not eligible for Tech Nation endorsement Global Talent visa. You can find other eligible and ineligible experience in the full list.
If your experience matches the conditions above, congratulations! You can apply to Tech Nation for endorsement.
How do I apply to be endorsed by Tech Nation?
As shown in the image above, applying for endorsement for Tech Nation is a two-stage process:
Stage 1 — Application for Endorsement: Tech Nation assesses your skills, abilities and achievements, and advises the Home Office whether you can be endorsed. This stage takes up to 8 weeks to be processed. If you have been accepted to one of the recognised UK accelerator programmes Tech Nation will fast-track your application and you may get an endorsement decision in 3 weeks.
Stage 2 — Application for Visa: The Home Office will inform you via email if you have been successful in receiving the endorsement. Tech Nation is not involved in Stage 2 - you must apply on the official Global Talent website within 3 months of receiving your endorsement from Tech Nation.  This stage usually takes up to 3 weeks if you're outside the UK, and up to 8 weeks if you're inside the UK.
Stage 1 is usually the longest and most arduous part of the process since it involves collecting documents, evidence, letters of recommendation, and deciding where your skills and experience best matches Tech Nation's criteria for endorsement. In total, you will need to prepare the following documents:
A personal statement (maximum 1000 words in length) written by you to explain the contribution that you will make to the UK digital technology sector. This includes questions like why you want to come to the UK, where in the UK you plan to live, and how the UK will benefit from your work.
CV (resumé) with any career and publication history included. Up to 3 sides of A4 paper.
3 letters of recommendation from three different individuals who are experts in the digital technology field, with detailed knowledge of your work over a period of 12 months or more. These should be signed and should include the author's CV/resumé and their contact details.
Up to 10 pieces of evidence showing you meet Tech Nation's eligibility criteria. There are two types of criteria:

Mandatory criteria - at least 2 documents are required to show you meet the mandatory criteria.
Optional criteria - at least 4 unique documents are required to show you meet any 2 of the other necessary skills (see below). You cannot use the same piece of evidence for more than one criterion.
But what ARE the criteria, you ask? Well, it depends on whether you're applying under "Exceptional Talent" or "Exceptional Promise". Since this is probably the most complex part of the application, I've tried to make it easier to understand in the diagram below:
The complete Tech Nation application process is covered in detail in the ever-growing Tech Nation Guide which I highly recommend reading in detail if you're preparing your application. In particular, I recommend you check out the Changelog which shows the latest changes to the guide, eligibility criteria and required documents. Rules might have changed since I wrote this!
---
My personal experience applying for Tech Nation's endorsement
About me
I applied from inside the UK, to switch from my Skilled Worker Visa (Tier 2). I'm originally from Colombia, but I moved to the UK in 2019 and I've been working as a Software Engineer for Google in London for just under 4 years. Since thousands of people have lost their jobs in tech because of layoffs in the last year, I decided to apply for this visa to mitigate the risk of being laid off. While I wasn't laid off in the end, thanks to the Global Talent visa I'm able to think much more long term and stay in the UK indefinitely regardless of my employment status.
My application
Since I have ~6 years of combined experience and graduated from university in December 2018, I applied through the Exceptional Talent route. I don't have much academic research experience, nor am I a startup founder, so picking the 2 optional criteria was easy: I picked "Recognition for your work beyond your main occupation" and "Significant technical, commercial or entrepreneurial contributions".
My recommendation letters
My recommendation letters were as follows:
Current manager (Senior Engineering Manager) from Google, talking about achievements in my team and my work outside of normal duties (mentorship and recruitment at Google).
Previous manager from the same company (Staff Software Engineer), talking about my achievements in my work outside of normal duties (mentorship and recruitment at Google).
Founder of the Startup I worked for before moving to UK, talking about my work, and my achievements outside of work.
My 10 pieces of evidence
My 10 pieces of evidence were as follows, with the 2 optional criteria I chose:
| Document | Type of Evidence | Details |
| --- | --- | --- |
| Proof of my employment at Google, with my latest tax documents showing annual income and statistics comparing it to average UK incomes. | Mandatory Criteria | Receiving a high salary in your field is one of the examples of valid evidence in the Tech Nation Guide. |
| Evidence of recognition from my work at Google for impact outside of my regular work duties (mentoring interns and Software Engineers from underrepresented backgrounds in tech). | Optional Criteria | "Recognition for your work beyond your main occupation" |
| Evidence of recognition received for the impact of my day-to-day work at Google (payslips for performance bonuses, shoutouts, etc). | Optional Criteria | "Significant technical, commercial or entrepreneurial contributions" |
| Descriptions of my contribution to some projects I've worked on at Google, and recognition received for this work (bonuses for completed projects, shoutouts, etc). | Optional Criteria | "Significant technical, commercial or entrepreneurial contributions" |
| Evidence of scholarships and awards received, including Linux Foundation Scholarships, Apple WWDC Scholarship and others. | Optional Criteria | "Recognition for your work beyond your main occupation" |
| Evidence of open source contributions (GitHub commit history) as the web developer for Citapress.org, a non-profit OSS project in the arts/publishing sectors. | Optional Criteria | "Recognition for your work beyond your main occupation" |
| Evidence of my involvement in the 7th cohort of Mozilla Open Leaders as the web developer of Citapress.org. | Mandatory Criteria | |
| Evidence of the grants received by Citapress.org, and a recommendation letter by the project coordinator of the organisation which sponsors the grant, detailing my contributions and role in receiving the grant. | Optional Criteria | "Recognition for your work beyond your main occupation" |
| Recommendation letter from the director of my local youth centre, where I volunteer to teach young people to code. | Optional Criteria | "Recognition for your work beyond your main occupation" |
| Evidence of my programming blog on Medium, and statistics from Medium showing how many people have read and liked it. | Optional Criteria | "Recognition for your work beyond your main occupation" |
They were all PDFs under 3 pages, except for the recommendation letters which included the DocuSign certificate and the CVs. Additionally, I took some extra steps to make sure I didn't miss anything:
I anonymised and redacted confidential work information.
I showed that all of the above took place in the last 5 years.
Where possible I included links to externally verifiable sources.
My personal statement
My personal statement (999 words) tied all my evidences together to talk about my work with underrepresented groups in tech, how this relates to my work with open source and with social impact volunteering, my existing contributions to the UK tech industry inside and outside of my full-time job.
The full timeline
My timeline was as follows, altogether it took about 3-4 months from beginning to end:
Dec 2022 - Jan 2023: Started collecting evidences, drafting my personal statement, talking to potential recommenders, making checklists, etc.
February 7th: Submitted the Home Office form, paid the initial application fee (see costs below!), and the Tech Nation application.
February 20th: Received the Home Office email confirming I had been endorsed for Talent. I paid the Immigration health surcharge (see costs below!) and the premium processing fee.
February 21st: Went for my biometrics appointment.
March 13th: Received the Home Office email confirming my application was successful for "Exceptional Talent".
March 15th: Received my new residence permit in the mail!
My advice
Check out the Tech Nation Visa Forum! A very active and helpful community complete with very knowledgeable folks on everything to do with visas, Tech Nation and what kind of evidence counts and doesn't.
Explain everything as part of your evidence: I found this advice on the forum and I applied it as much as possible. My approach was to use Adobe Illustrator to compile the screenshots into a PDF that made sense, with footnote explanations, links to externally verifiable sources and even a glossary of every concept mentioned in the evidences. I made sure the PDFs were as readable and simple as possible.
Edit, edit, edit: I worked with my recommenders to make sure the letters were very sharp, and contained only the most important accomplishments and a few complimentary words, without much fluff or unnecessary information. All letters were all 1-page max (except for the one by the Youth Centre).
Put extra effort into the personal statement: I worked on my personal statement for almost two months, refining, rewriting, cutting and adding until I was happy with it. My goal was to tie in all the pieces of evidence into a complete narrative and a record of any relevant achievements. It helps to get your friends and family to look at it and leave critical comments, my sister and my partner were particularly helpful here.
Make sure to get things DocuSigned and include the CV of the signer I got every recommendation letter DocuSigned (the three mandatory ones and the two letters I used for evidence).
How much does the Global Talent visa cost?
This is where things get complicated.
While I don't intend to get too political here (so I'll keep this brief) it's fair to say that the British government sees immigrants as easy money, using unfairly-high immigration fees to subsidise the UK's growing budget deficit. This is not to discourage you from moving to the UK (I still love the UK and I only want it to be better for everyone) but it's important to be aware of this if you're considering immigrating to the UK:
Unfortunately, this means that the Global Talent visa is expensive:
You need to pay £456 to get the right to apply for endorsement. The endorsement application fee is non-refundable. You can appeal your case for free if you get a rejection letter from Tech Nation, however, if you want to re-apply, you will need to pay the fee — £456 — again.
After you get endorsed, you'll need to pay a visa fee — £167.
You will also need to pay an Immigration Healthcare Surcharge (IHS) — £624 for each year per person of your visa validity. If you apply for a visa of 5 years, this is £3120. If you're bringing two dependants (spouse and a child) this is an eye-watering £9360.
You'll likely need to book an appointment to get your biometrics. While there are free appointments, these are limited and probably several weeks in the future. If you want a faster appointment that'll cost £132 for an appointment to have your photo and fingerprints taken.
If you need a faster decision on your application, you can pay for priority service, which can cost an additional £500-£800 per person.
And all of this doesn't take into account the cost of settlement or "Indefinite Leave to Remain" which will cost an additional £2,404 nor the cost of citizenship which will cost £1,330. Both assume no dependants.
Why is this unfair? Because on top of all these fees, immigrants will still pay the same taxes as any ordinary resident in the UK, but they won't have received any government services by the time they start paying said taxes: they didn't receive any government-funded education or benefits that a regular resident who was born and raised in the UK is entitled to. By contrast, immigrants are generally ineligible for public funds such as benefits and housing assistance.
And it's only going to get more expensive: on 13 July 2023, the UK Government announced that the Immigration Health Surcharge (IHS) will increase by 66%, with most other fees increasing by 15% to 20%. These changes are expected to come into force sometime in Autumn 2023.
---
The Global Talent Visa: was it worth it?
Despite what I mentioned above, it was very much worth it for me, in big part because I am lucky to have an employer that subsidised the cost of my visa and ILR. This made getting the visa a lower cost, low risk / high reward proposition, and my only regret is not doing it sooner as I could've benefitted from it earlier.
But it might not be worth it for everyone, and I expect the primary reason for that is cost. Keep in mind though that if you qualify for the Global Talent visa, particularly in Digital Technology, it's very likely that you can secure a high-paying job in the UK that would cushion the blow of the upfront cost of the Global Talent visa.
But with the current and soon-to-increase costs, securing a job offer for a UK company and getting sponsored for a work visa remains the path that will cost you less in the long run, if your company is willing to pay for the fees (my anecdotal evidence from friends suggests most companies will pay for any immigration fees, particularly in tech).
Thanks for reading! And if you're applying for Tech Nation's endorsement don't forget to check out the Tech Nation visa forum and the full Tech Nation Visa Guide!